Corrode-A-Fix Rust Transformer completely neutralizes annoying, persistent rust on steel and cast-iron by converting it to a protective black layer 30 minutes after application.
Once the surface has been sealed with Corrode-A-Fix, rust will not return.
Corrode-A-Fix is an easy-to-use, fast-drying, no-mix product, ready to apply. With proper application, use and care, the repair will long retain its color and high gloss.
Please read all directions and warnings below prior to use.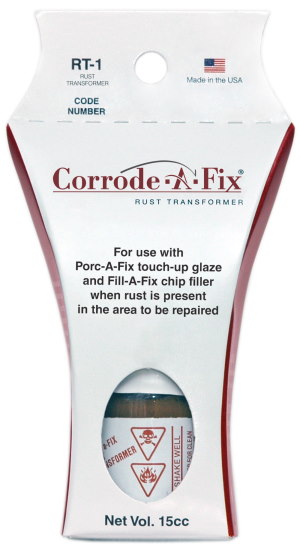 APPLICATION
INSTRUCTIONS
BEFORE YOU
START
PRODUCT
PRECAUTIONS
CONTENTS
OF KIT
PRONOUNCING
PORC-A-FIX
Application Instructions
Preparation
For all repairs, make sure area is completely clean, dry and free from loose material or dust. A dust mask should be worn during sanding step of any product.
Once the factory seal is broken, shelf life is limited due to external factors and cannot be guaranteed. FIXTURE-FIX products are intended for a one time use but, if stored in ideal conditions, further applications may be available. Wipe the top of the bottle and the inside of the cap before closing.
For deep chips and gouges, you should first fill them with Fill-A-Fix before using Corrode-A-Fix.
Repair
Shake the bottle of Corrode-a-Fix well. Shake bottle for 30 seconds.
Apply touch-up glaze, using the brush-top applicator with thin coats.
Clean. Remove all loose rust using wire brush or enclosed sandpaper. Make sure area is clean and dry.
Apply. Apply to rust with brush applicator. Rust will convert to a black protective film, usually within 30 minutes. You can apply Fill-a-Fix, Porc-a-Fix or Rack-A-Fix in 4 to 6 hours after initial application. Use with adequate ventilation. Clean with water.
Dry. After final coat is applied, let dry for 24 hours before use.
Post-Operative Care
For routine cleaning of the repaired area, use a mild liquid abrasive or dishwashing liquid; we recommend this not only for the repaired area, but for the entire fixture. Do not use harsh chemicals or abrasive cleaners on the repaired area. This will reduce the chance of scratches from surface dirt or abrasion.
Adjusting Color
Porc-A-Fix, Tile-A-Fix and Laminate-Fix colors can be adjusted by using another color of same product. Do not adjust the entire bottle. If you lighten or darken too much, then you have no other material to use. Pour some of the contents out of the bottle in a paper cup and adjust that. Allow a very small amount of the color being used to adjust, to roll off the brush cap into the cup of material being adjusted. The color will darken as it dries.
We create color-matched glazes for most colors of kitchen and bath fixtures - old or new - from the fixture manufacturers/designers listed below:
Admiral, American Standard, Artesian, Bootz, Borg Warner, Briggs, Caloric, Crane, Eljer-Murray, Geberit, General Electric, Gerber, Julien, Kilgore, Kohler, Mansfield, Nationaline, Niagara, Norris, Peerless, Rheem-Richmond, Rohl (Shaws and Allia), Tappan, Toto, Universal-Rundle, Villeroy & Boch, Vintage Tub & Bath, Westinghouse, Whitehaus Collection