Fib-R-Fix fills and repairs chips, cracks and small holes in fiberglass and acrylic showers and baths. Fib-R-Fix is the only acrylic repair product that is made in the most popular colors produced by the major fiberglass and acrylic bath manufacturers.
This simplified three-step kit is ideal for use in the home, workshop or showroom. Each Fib-R-Fix list contains sufficient material to make one to three repairs, depending on the size and depth of damage.
Please read all directions and warnings prior to use.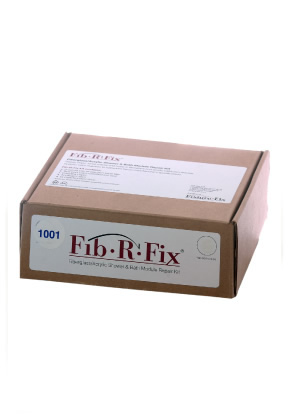 APPLICATION
INSTRUCTIONS
BEFORE YOU
START
PRODUCT
PRECAUTIONS
CONTENTS
OF KIT
Application Instructions
Preparation
Ensure that the damaged area and surrounding surface are clean - free of dust, dirt, grease, soap residue, wax and cleaners.

To make sure this area is totally dry, carefully wipe just the repair area with a small amount of acetone after cleaning.
Repair
Stir the contents of the can marked "FILLER" until an even consistency is achieved. If the filler seems too thin to work with, simply pour some on a piece of cardboard and mix it for a few seconds in air until it stiffens a bit.
Fill the damaged area with thin, even coats, allowing 15-30 minutes of drying time between each coat. Fill the damage to just slightly below the surface, as this will allow for a smooth and level application of the gel-coat. Do not try to fill deep gouges in one coat. It is not necessary to sand in between coats.
Sand the filled area, once completely dry. Sand the filled area to just below the adjoining surface, to allow space for the gel-coat.
Shake the contents of gel-coat Jar A and Jar B thoroughly, then pour even amounts of each into the mixing cup and stir until consistent in color. Allow to stand for 30 minutes, and then stir again.
Apply the gel-coat mixture over the repaired area in thin coats, using the applicator brush in Jar B. Thin coats will deter puddling or running, particularly on vertical surfaces. Let each coat sit for 15 to 30 minutes. A cool hair dryer can be used to speed up the drying time. If you do this, keep the dryer nozzle at least one foot from the repair, ensuring that the air flow does not cause the gel-coat to run. Use a back and forth fanning motion with the hair dryer - do not hold it stationary over the repair.
Dry the final gel-coat thoroughly before sanding. Without forced drying, typically allow at least 48 hours of final open-air drying time (the gel-coat may dry in as little as 24 hours in low humidity conditions).
Sand the filled area, once completely dry. Use the 220 grit sandpaper to remove any surface imperfections. Then progressively sand with the 400 grit and 600 grit sandpapers in succession, to polish the gel-coat. If you desire, buff with a soft cloth and a bit of automotive polish.
Post-Operative Care
Clean the repaired area with a mild liquid abrasive or dishwashing liquid; we recommend this not only for the repaired area, but for the entire fixture. Do not use harsh chemicals or abrasive cleaners on the repaired area. This will reduce the chance of scratches from surface dirt and abrasion.
We create color-matched glazes for most colors of kitchen and bath fixtures - old or new - from the fixture manufacturers/designers listed below:
Admiral, American Standard, Artesian, Bootz, Borg Warner, Briggs, Caloric, Crane, Eljer-Murray, Geberit, General Electric, Gerber, Julien, Kilgore, Kohler, Mansfield, Nationaline, Niagara, Norris, Peerless, Rheem-Richmond, Rohl (Shaws and Allia), Tappan, Toto, Universal-Rundle, Villeroy & Boch, Vintage Tub & Bath, Westinghouse, Whitehaus Collection