LAMINATE-FIX INFORMATION PAGE
Laminate-Fix fills and repairs nicks, chips, scratches, burns, small cracks and minor imperfections in laminate surfaces, restoring the beauty of countertops, backsplashes, cabinet facings, table tops, vanities, furniture, and many other plastic laminate surfaces.
We make Laminate-Fix in 29 commonly used colors. Depending on the complexity of your counter or other surface design, you may need to combine colors to make a repair.
Please read all directions and warnings prior to use.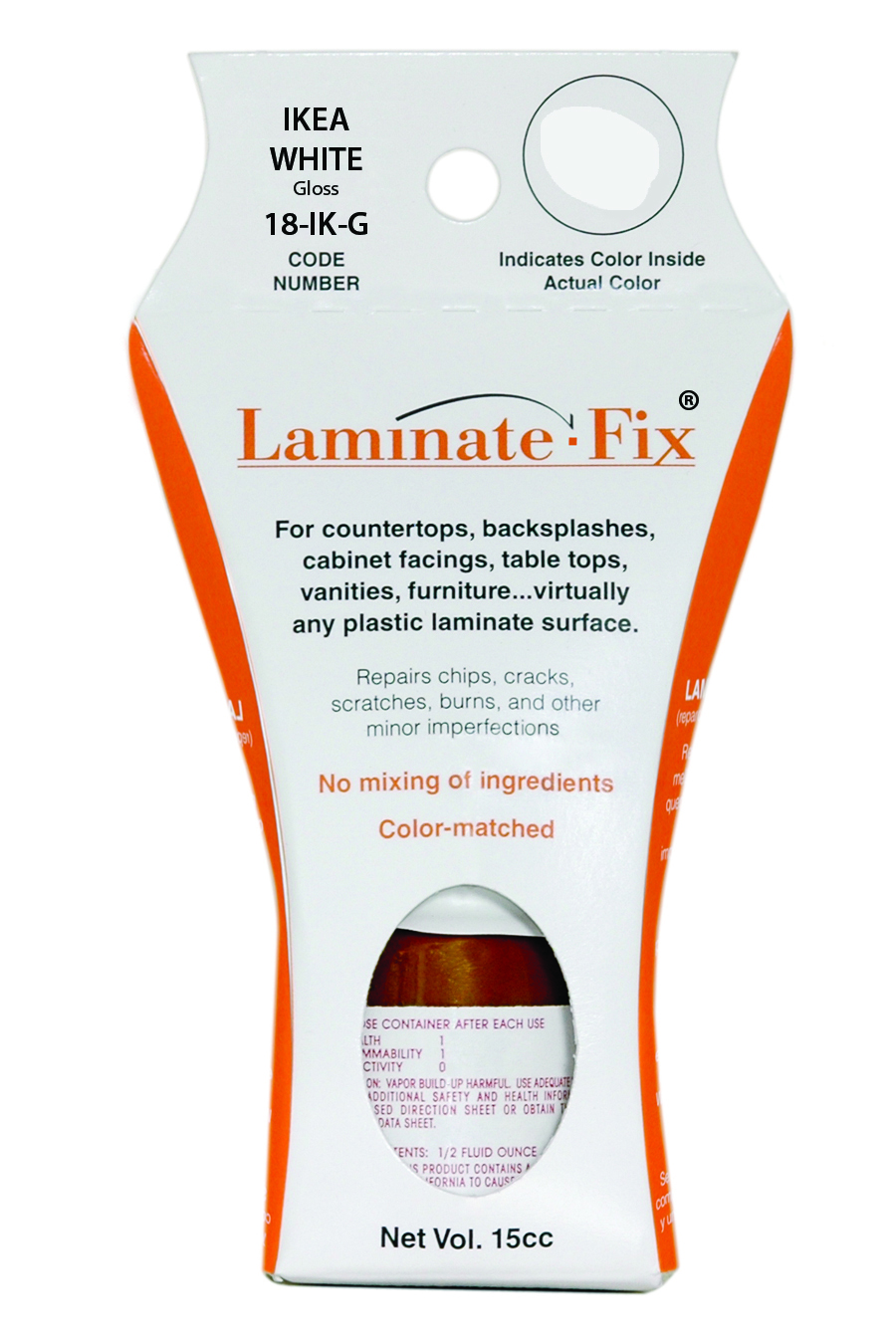 APPLICATION
INSTRUCTIONS
PRODUCT
PRECAUTIONS
CONTENTS
OF KIT
Application Instructions
Shake and stir bottle well.
Fill the damaged area with thin, even coats, allowing two hours of drying time between each coat. Fill the fissure just to the surface - do not overfill. Do not try to fill deep gouges in one coat. It is not necessary to sand between coats.
Dry the repaired area completely for 24 hours after applying the final coat, and before final sanding and/or buffing.
Sand the repaired area very lightly to remove any imperfections, such as remaining brush marks or debris that has settled into the repair. You may use the enclosed 220-grit finishing paper, or use additional similar or finer grit paper of similar or finer grit as you deem fit. Take care not to scratch the surrounding surface when sanding.
We create color-matched glazes for most colors of kitchen and bath fixtures - old or new - from the fixture manufacturers/designers listed below:
Admiral, American Standard, Artesian, Bootz, Borg Warner, Briggs, Caloric, Crane, Eljer-Murray, Geberit, General Electric, Gerber, Julien, Kilgore, Kohler, Mansfield, Nationaline, Niagara, Norris, Peerless, Rheem-Richmond, Rohl (Shaws and Allia), Tappan, Toto, Universal-Rundle, Villeroy & Boch, Vintage Tub & Bath, Westinghouse, Whitehaus Collection