Match A Fix Information Page
Match-A-Fix is our program introducing retail customers to Porc-A-Fix. It has special tools to help you find the exact Porc-A-Fix color and finish that perfectly matches your damaged fixture.

Original Porc-A-Fix touch-up glaze is the only porcelain repair product made in virtually all current and vintage colors produced since 1929 by the major porcelain bathroom fixture and kitchen appliance manufacturers.

Porc-A-Fix offers a simple way to repair unsightly chips, scratches, small cracks and other imperfections in porcelain tubs, sinks, toilets, tile, and porcelainized finishes on washers, dryers and kitchen appliances.

Porc-A-Fix is an easy-to-use, fast-drying, no-mix product; ready to apply. It will long retain its color and high gloss with proper application, use and care.

Each Porc-A-Fix kit comes complete with applicator, sanding/buffing material and instructions.

To place your Match-A-Fix order, please click on one of the tabs below for instructions on the fixture you wish to repair.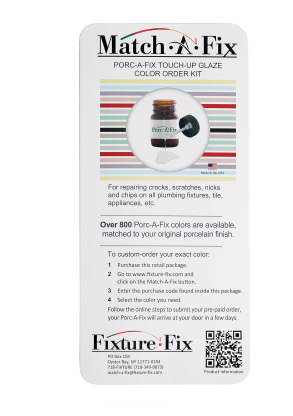 BATHROOM
KITCHEN
TILE
OTHER
APPLICATION
INSTRUCTIONS
While our website is under construction please follow the instructions below to order your Match-A-Fix color:
Please have the answers to the questions below before contacting us to assure an accurate color match.
What kind of fixture are you looking to repair? Toilet, Sink, Tub, etc.
For a toilet, bathroom basin or tub that matches a toilet:

Please take the tank lid (very carefully) and place on/in the tub or sink to ensure that it is indeed a match.
Who is the manufacturer?
Copy the numbers that appear on the underneath side of the tank lid and/or inside the tank (usually found on the back side of the tank around the water line).

If it is a basin or tub that doesn't match the toilet:

Who is the manufacturer?
Copy the numbers appear on the underneath side of the sink. Many times the numbers will be cast into the sink itself so you may need a flashlight to see the numbers.

The color group that your fixture is. ie. beige, yellow, pink, blue, green, etc.
Once you have compiled the requested information above, supply it to us by either method below
Call us at 718-FIXTURE
Email us at orders@Fixture-Fix.com
Make sure to have your Match-A-Fix code available to you when making your call or write it in your email.
We should be able to determine the correct color for you with the information above, if not, please send us a sample of the color. It can be a paint chip from a local hardware or paint store, a piece of the tile, or anything you have that is the same color and that item can be returned with your purchase to the following address:
Fixture-Fix/DPF Plumbing
2624 Powell Ave
Unit 4
Pennsauken, NJ 08110
Include with the color sample - your name, phone number, address and your unique Match-A-Fix code. And please let us know that you have sent the sample as well with a quick email to orders@Fixture-Fix.comso that we know to look for it.
Once we receive your sample, we will contact you so you know we have received it and get your matched color out to you usually within 1 business day.
Any questions, feel free to contact us at:
Phone 718-FIXTURE or Orders@Fixture-Fix.com
We create color-matched glazes for most colors of kitchen and bath fixtures - old or new - from the fixture manufacturers/designers listed below:
Admiral, American Standard, Artesian, Bootz, Borg Warner, Briggs, Caloric, Crane, Eljer-Murray, Geberit, General Electric, Gerber, Julien, Kilgore, Kohler, Mansfield, Nationaline, Niagara, Norris, Peerless, Rheem-Richmond, Rohl (Shaws and Allia), Tappan, Toto, Universal-Rundle, Villeroy & Boch, Vintage Tub & Bath, Westinghouse, Whitehaus Collection